Access to our location
Address :
256, rue de Thor
34000 Montpellier
FRANCE
By car :
Exit the motorway at exit 29 "Montpellier Est – Fréjorgues"
At the roundabout take the exit "Montpellier-center / Castelnau-le-Lez / Port-Marianne / Odysseum"
Get on the D66 then exit "Castelnau-le-lez / Hôpital-Faculté / Port-Marianne / Millennium / Odysseum".
Take the first exit on the right (before the roundabout) direction "Castelnau-le-lez / Hôpital-Faculté/ Park Eureka / Gramont / Zenith"
Continue on "Rue Becquerel"
Then turn right on "Rue de Thor".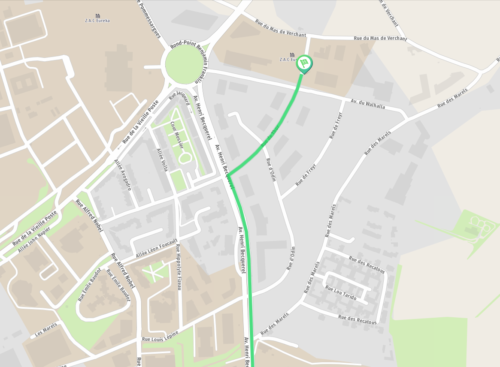 Sector map. Path arriving from the highway.

Detailed map of the site.
TERAKALIS parking spaces are available on site to accommodate employees and visitors. They are freely accessible. If however all the places were already occupied, you will find places in the surrounding streets: Rue Du Walhalla and Rue de Thor.
TRANSPORTS EN COMMUN :
By train :
ATTENTION, there are two train stations in Montpellier
From Saint-Roch station
Now head towards the tram stop opposite you and take line 1 towards "Odysseum".
Get off at the "Place de l'Europe" stop.
Cross the street.
Option n ° 1: Take bus n ° 9 A/B towards "MONTPELLIER-Place de l'Europe-Sens A". Get off at "Walhalla" stop
Map A
Option n ° 2: Take the bus n ° 51 direction "CASTELNAU-LE-LEZ- Notre-Dame de Sablassou". Get off at the "Philippe Lamour" stop.
Map B
From Montpellier Sud de France station
Take the shuttle from the station that will drop you off Place de France (if there is no shuttle the time to reach Place de France is 16 minutes).
Take the bus n ° 9 A/B direction "MONTPELLIER-Place de l'Europe-Sens B". Get off at the Louis Lépine stop. It will take you 4 minutes on foot to reach our premises.
Map C
By plane :
Once at the airport take the number 120 shuttle which will take you to the Place de l'Europe (Antigone district) in Montpellier.
Option n ° 1: Take bus n ° 9 A/B towards "MONTPELLIER-Place de l'Europe-Sens A". Get off at "Walhalla" stop
Map A
Option n ° 2: Take the bus n ° 51 direction "CASTELNAU-LE-LEZ- Notre-Dame de Sablassou". Get off at the "Philippe Lamour" stop.
Map B