The TK-Field range is a set of portable solutions dedicated to operational sites use for the inspection or ageing monitoring of inner defects or properties materials.
It consists in light and compact devices dedicated for all types of material geometry or/and access conditions.
It proposes different configurations of control:
volumetric content measurement
heterogeneity Imaging
spectrometry
mono/multi-layer thickness measurement
It is available in handheld or embedded version.
The sensor module is based on an innovative technology suitable for selected scanning area with displacement speed measurement.
All our systems are comprised of standardized own-designed components to easy their assembly, integration and maintenance.
Specific opto-mechanical frames according to geometry and access conditions (plane, cylindrical, minimum distance…) linked to the item to inspect can be designed by our engineering center.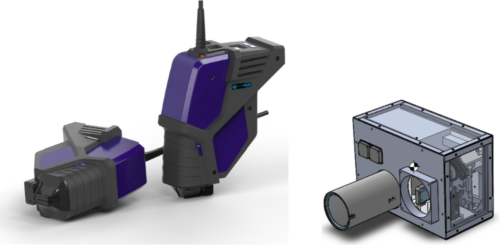 TK-Field controller – handheld version (left)
TK-Field controller -embedeed version (right)